Gardening Services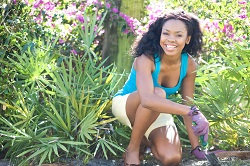 Money and Time With Gardeners Fulham
We can save you a lot of time effort and money when it comes to getting a garden that you love. At Gardeners Fulham, we understand that everyone has different needs when it comes to gardens, and with our expertise, we help make sure those needs are met. We are experienced in landscape designs and other services in the SW6 area, and we ensure that your garden is looking its best all year round. We provide regular maintenance visits, saving you time and money as we can keep everything under control. Our prices are highly competitive, so you don't have to worry about going over budget!
Get Professional Advice From Gardeners Fulham
We offer professional advice on any issue, no matter how big or small, when it comes to garden care. You can trust us to provide you with honest and helpful advice about anything related to your garden. Whether you need help with weed management or tree pruning, our trained staff will be there to answer any questions or concerns. We have years of experience and training within the SW6 region, allowing us to expertly advise you on what services would be best for your garden.


Transform Your Garden in SW6

The gardens of SW6 are becoming renowned for the quality work of Gardeners Fulham. Whether you want a one-off session exclusively designed to give your outdoor area a quick improvement or if you need a more frequent visit at intervals set by yourself, we can handle them all with ease! From planting new lawns to dealing with weeds, nobody else in the locality offers such an extensive range of solutions as us! Get booked in now to observe amazing results!


Are You Left With an Unkempt Garden in SW6?

It happens all too often that homeowners or landlords end up focusing solely on the interior design while their garden gets neglected until they realise their mistake! If this is the situation which you find yourself in throughout Fulham, then consider using our various services which are here to solve whatever issues arise from a messy garden. If a major redesign is what's needed for your plot of land, then our landscape gardeners will sort that out without fail. For larger expanses of grass or simply for general maintenance our experts will deal with them promptly and easily!


Chill Out In Your Perfect Summer Garden

Living in SW6, summerdays can be enjoyed even more if spent outdoors within the premises of your own personal haven -- A place which conjures up images of luxury swimming pools surrounded by an abundance of beautiful flowers and shrubs? Don't let worries over whether your garden meets these expectations stop you from enjoying this season - because our team of gardening experts are here to make sure that everything is up to standard! Offering affordable services across the entirety of the Fulham, our experts are here to help guide you through whatever steps need taken in order to bring your desired vision into life!

Be Confident That Any Job Is Possible with Gardeners Fulham
Don't forget that our services extend beyond just being able to achieve any kind of landscaping project; our team of talented members also provides excellent levels of plant care along with exceptional standards when it comes to clearing out debris from within gardens -- this includes removal of construction waste from bigger projects within properties located across the entire SW6. Alongside this, regular maintenance visits from us means that your dream garden can remain constantly beautiful without causing too much hassle for yourself!
Get Professional Assistance at Low Prices Complete With Guaranteed Quality We pride ourselves on offering dozens upon dozens of options at amazing prices which will allow even those who have been hit hardest financially due to Covid-19 pandemic still remain eager participants in achieving their perfect space whilst not breaking the bank either. Our experienced professionals will happily guide through every step needed towards funding what was once only dreamed off - Whilst having complete trust that each service delivers complete satisfaction both aesthetically and financially. So why not call us today on
for some free advice?